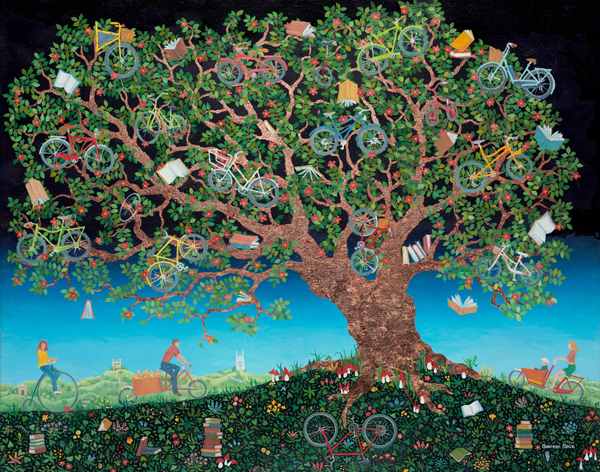 Tree of Bikes
Silvanite Trees Gallery
Oil painting with copper leaf
25.5 x 31.5 inches / 65 x 80 cm
Original for sale £2200 (GBP)
Wherever you go in Cambridge there are bikes. The city is flat with narrow streets and very congested so the locals travel everywhere on their bikes. They get exercise, save money on cars and parking and ride to exactly where they want to be.
I painted my bike red and added a flower banner around my basket so it is easy to spot. I have a 'Dutch bike' which allows me to sit up straight and see all around me. I love it and ride everywhere on it, in fact I have not driven a car for over a year as when not on my bike, I take a bus or in special circumstances a taxi.
My painting 'Tree of Bikes' just shows a small array of all the bikes available. Cargo bikes are very popular to carry small kids and a lot of delivery drivers use a bike, some are electric. I have painted 18 bikes plus a wheel and included a mono wheeled bike, a penny farthing, one that hangs outside a pub as well as one that needs mending!