Buying Original Art, Prints, Cards etc.
Giclée Print
Giclée prints, high quality photographic reproductions with an archival life expectancy of up to 100 years, are available for some of the paintings. They are printed in small limited editions of between 10 and 75 on specialist acid free, fine art paper. Each one is signed, titled and numbered. Prints are gently rolled and posted in robust postal tubes. Mounted prints are available by visiting Maureen's studio.
Greeting Card
Many of the paintings and sketches are available as greeting cards. The cards are blank inside, come with an envelope and are wrapped in cellophane. The cards are handmade with a photographic image on the front of a folding card or printed, this is mentioned in the description.
Book
During the first Lockdown, with galleries closed and her art classes cancelled, Maureen was happy painting, gardening and having time to do those things she could not normally fit in. During the second Lockdown in Autumn 2020, which lasted 27 days, she made a sketch a day and turned it into a book.
When the third Lockdown came on January 2021 it was mid-winter and the nights were long. She again made the decision to do a sketch a day and post it on Instagram and Facebook. She never knew what she would draw at the beginning of the day so drew her inspiration from her now resumed classes online, news headlines and events happening around her. Her second book has 167 sketches.
Notebook
I have recently introduced notebooks to my range and I shall be increasing the designs in due course. The notebooks have a matt soft cover with the front design continuing over the spine. My details and a small image of the cover are printed on the back. Inside are 100 ruled pages (50 double sided sheets). They are ideal as small presents and can be carried easily in a handbag or kept at home to making notes.
Original Painting
The paintings are in oil on a linen canvas and the size includes the white floating frame. Prices exclude delivery costs. It is recommended that you visit Maureen's studio to view the artwork on a no obligation basis. To do this, please use the contact page stating the title of the painting you are interested in. A few paintings are in acrylics and this is mentioned in the individual description.
Payment
For online purchases, we currently accept only PayPal payments. PayPal allows secure payment with your PayPal account or credit card. You will be redirected to PayPal to finalise your order when checking out. More information about PayPal is available at https://www.paypal.com/uk
Prices displayed on this website are in British Pounds (GBP).
Sales are limited to the UK only.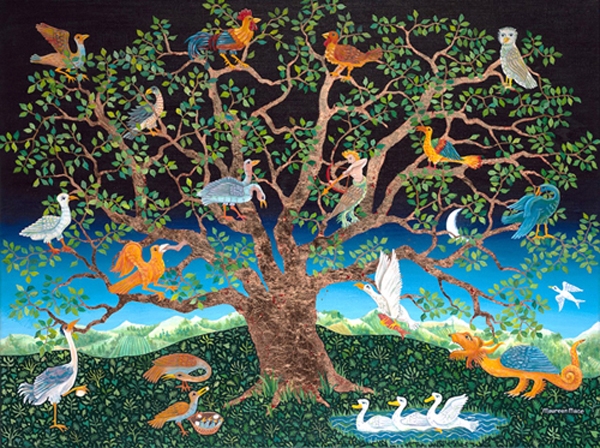 Medieval Roost
I have always loved Medieval Art and whenever I visited a museum or art gallery this was the first section I would head for. My paintings had developed with tiny intricate details such as the millefleur from this period.
At one Open Studios I met a lady who was training to be a tour guide in Cambridge and she recommended I visited the Parker Library at Corpus Christi. I followed her advice and was completely blown away by the old manuscripts and their illuminations. I spoke to the librarian and suddenly I became a reader at the library. It is one of those fantastic moments that came about by chance.
This painting is from some of the drawings I have made from my favourite kind of books, the Bestiaries. Someone once described them as "a moralized Natural History illustrated by curious pictures".
This painting will be on show for the first time at my Open Studio in July 2018. I wonder what everyone will make of it!