Buying Original Art, Prints, Cards etc.
Giclée Print
Giclée prints, high quality photographic reproductions with an archival life expectancy of up to 100 years, are available for some of the paintings. They are printed in small limited editions of between 10 and 75 on specialist acid free, fine art paper. Each one is signed, titled and numbered. Prints are gently rolled and posted in robust postal tubes. Mounted prints are available by visiting Maureen's studio.
Greeting Card
Many of the paintings and sketches are available as greeting cards. The cards are blank inside, come with an envelope and are wrapped in cellophane. The cards are handmade with a photographic image on the front of a folding card or printed, this is mentioned in the description.
Book
During the first Lockdown, with galleries closed and her art classes cancelled, Maureen was happy painting, gardening and having time to do those things she could not normally fit in. During the second Lockdown in Autumn 2020, which lasted 27 days, she made a sketch a day and turned it into a book.
When the third Lockdown came on January 2021 it was mid-winter and the nights were long. She again made the decision to do a sketch a day and post it on Instagram and Facebook. She never knew what she would draw at the beginning of the day so drew her inspiration from her now resumed classes online, news headlines and events happening around her. Her second book has 167 sketches.
Notebook
I have recently introduced notebooks to my range and I shall be increasing the designs in due course. The notebooks have a matt soft cover with the front design continuing over the spine. My details and a small image of the cover are printed on the back. Inside are 100 ruled pages (50 double sided sheets). They are ideal as small presents and can be carried easily in a handbag or kept at home to making notes.
Original Painting
The paintings are in oil on a linen canvas and the size includes the white floating frame. Prices exclude delivery costs. It is recommended that you visit Maureen's studio to view the artwork on a no obligation basis. To do this, please use the contact page stating the title of the painting you are interested in. A few paintings are in acrylics and this is mentioned in the individual description.
Payment
For online purchases, we currently accept only PayPal payments. PayPal allows secure payment with your PayPal account or credit card. You will be redirected to PayPal to finalise your order when checking out. More information about PayPal is available at https://www.paypal.com/uk
Prices displayed on this website are in British Pounds (GBP).
Sales are limited to the UK only.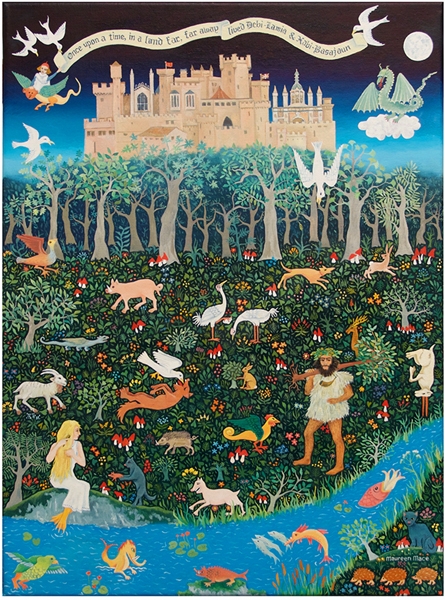 Basoko Dreams
I was commissioned to paint a Medieval inspired scene by a visitor to Cambridge Open Studios in 2018. I knew it would take a long time and that I wouldn't be able to start it for a while due to other exhibition commitments.
The painting was for a couple who lived in the Basque area of Spain although one of them was currently living in Cambridge and working at Arm Holdings. We discussed the painting reducing it from the original concept of three parts to one fairly large design. I was really excited about the project and it occupied a lot of my thoughts before I even sent a rough design to the couple at this time both living in Spain.
I started painting at the beginning of November 2018. All correspondence was now done by email. As with any project it grows and I sent images to show my progress. Many things changed over the course of time but all made the painting better. With a real interest in Medieval Art and drawing from various books illustrating the Old Bestiaries at the Parker Library, Corpus Christi which is part of the University of Cambridge, I slowly added the main figures and the accompanying birds and animals based on both real and imaginary beasts.
In between the characters I added a carpet of millefleur.
I completed the painting earlier this month and it will be collected by a friend of the new owner and driven across to Spain before it is framed and hung.
I have really enjoyed making this artwork and I think it is my best painting ever. I hope that it will be enjoyed down the generations.
The new owner has titled the painting 'Basoko Dreams' which translates as 'the dreams in the forest'. I will have a print of the painting on show at Cambridge Open Studios on 20/21 and 27/28 July 2019.