Buying Original Art, Prints, Cards etc.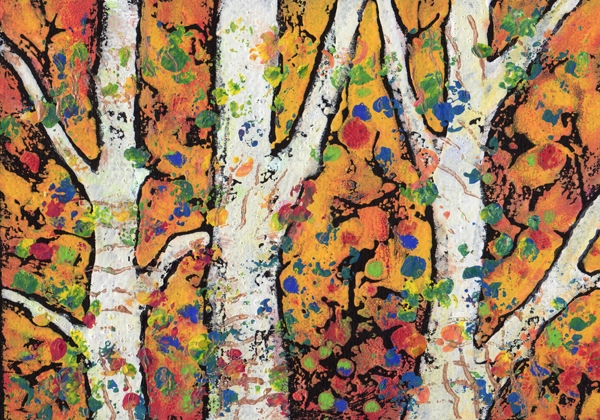 Three Trees - Autumn
This mono print is made from the same block as 'Three Trees - Spring'.
The print starts with a very simple design of the outline of three tress pressed into the printing block. Then the fun starts!
The ink has been applied really thickly to give lots of texture. This is the exciting stage as there is no way of knowing exactly how the print is going to turn out. Not enough pressure when printing it onto my lovely printmaking black paper and there is too much paper showing: but too much pressure and the coloured inks run into each other and fill in the etched lines.
This initial stage in making a print takes a few weeks to dry as the ink is really thick so a little bit of patience is required. Later I add more details. I have stamped some of this print with gold and added some more texture until I am happy.
The monoprints are hand painted on a marked block and printed onto a beautiful black mould made paper especially for professional printers. Each one is slightly different but the photo gives a guide to the quality and textures of the print.