Exhibitions
Birmingham Open Studios
1st October 2022 - 2nd October 2022

Lux Gallery, 13 Greenfield Crescent, Edgbaston, Birmingham B15 3AU

Opening Times

Open Saturday 1 October and Sunday 2 October. 11:00 AM - 05:00 PM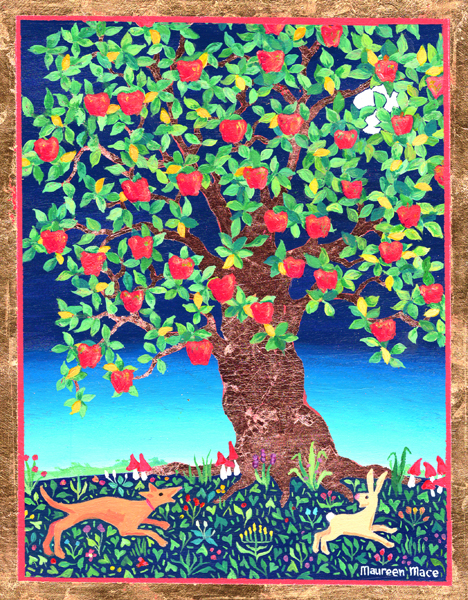 Probably everyone knows that I love doing Cambridge Open Studios and that my son, Owen de Visser, started Birmingham Open Studios seven years ago. It has grown over the years and he is applying for funding so that it can be rolled out over the whole of Birmingham. I am, of course, very proud of him.

I have taken part for the last 3 years and this year will be with Owen at the gorgeous Lux Gallery in Edgbaston on 1 & 2 October. It will be a lovely time for us to catch up and share our love for art, He is a photographer and runs the gallery.

It does mean I shall have a few Birmingham themed painting and will be leaving my Cambridge ones at home. Trying to get my 'Tree of Birmingham' painted, varnished and framed for 1 October. Looking forward to meeting some lovely Birmingham people who have visited in previous years as well as new art lovers.

More information at Lux Gallery
Cambridge Open Studios
16th July 2022 - 23rd July 2022
309 Milton Road, Cambridge CB4 1XQ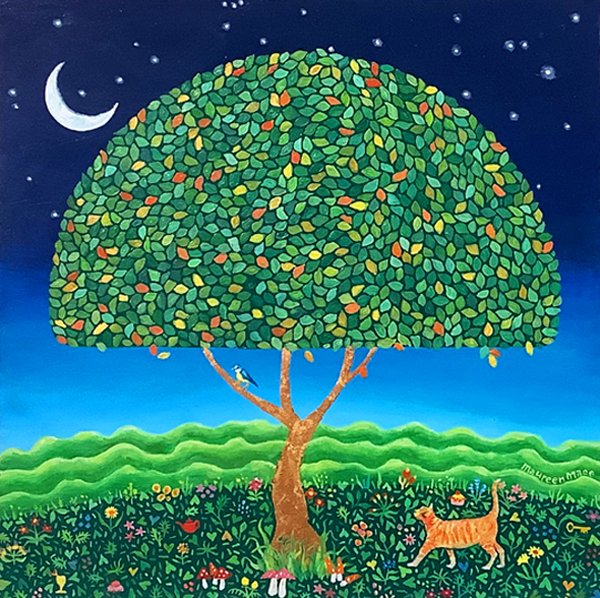 Cambridge Open Studios is back!
I am open all 4 weekends this year. July 2 & 3 and July 9 & 10 I am at the Pitt Building with several other artists. I love this venue and it is always busy as passers by drop in.
I will be back home in my own studio on Milton Road for the last 2 weekends, July 16 & 17 and July 23 & 24. I have a table set up with small canvases painted in dark blue with a red outline of a tree. This is for my visitors to 'have a go' at gilding, and the best thing about this is you get to take your artwork home.
Please be aware that Milton Road is open although the roadworks have started. A bike can be left in our drive and a car can be parked opposite my house at Kendal Way.
Looking forward to meeting art lovers again in my home.
Art Unequalled
11th June 2022 - 12th June 2022
The Maltings, Ship Lane, Ely, CB7 4BB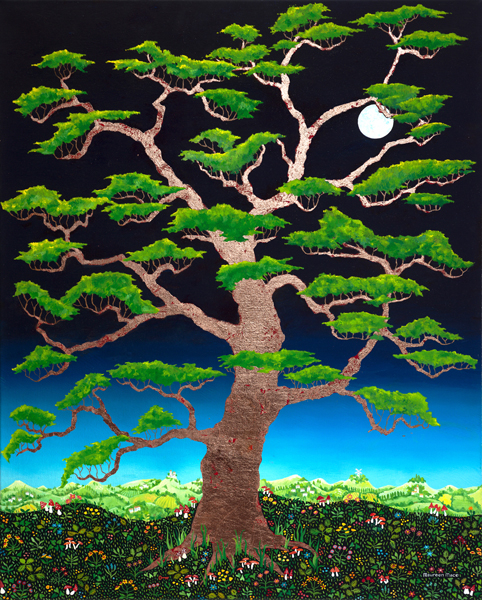 This year I am excited to be exhibiting with Art Unequalled in Ely for the first time.
During the weekend, there will be a range of stunning handmade works of Art and Craft exhibited by individual makers from across the UK as a weekend 'gallery' including ceramics, sculpture, textiles, jewellery, painting, glass, photography, print, wood, furniture and more.
It is a chance to:
-talk to the makers about their work, many accept individual commissions.
-observe makers demonstrating their craft, see how they create their stunning work first hand.
-meet the artists as you can be assured that all work on display is made by the artist selling it.
Cambridge Drawing Society April 2022
2nd April 2022 - 9th April 2022
Pitt Building, Trumpington Street, Cambridge
Recently I have been exploring gouache again with my Tezhip designs. I love the 'flatness' of gouache as well as the bright colours and thought it might also lend itself to some medieval style small paintings.
I entered 4 paintings for the CDS exhibition and was delighted when all were accepted. I see showing at this Cambridge exhibition a chance to display what I am doing. Most of the exhibits there are watercolours of local scenes and flowers which I never do so I like to put something very different there.
This year over 400 paintings were exhibited and the standard seems to get higher each year as new members are accepted.
Newmarket Open 2022
12th February 2022 - 24th April 2022
National Horse Racing Museum, Newmarket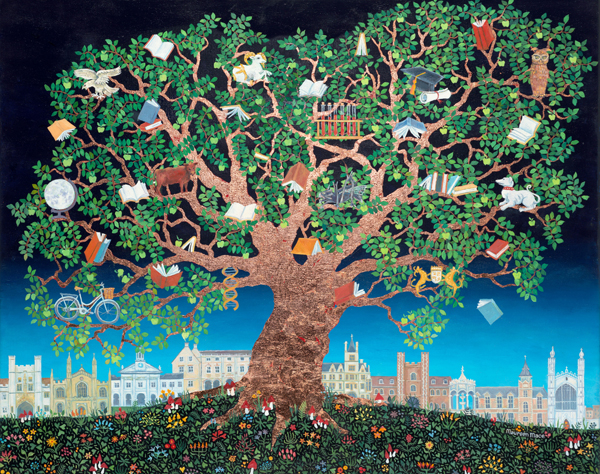 I am absolutely delighted to have TWO paintings chosen for the inaugural Newmarket Open exhibition which takes place at the wonderful National Horse Racing Museum.
The museum is open Tuesday to Sunday and also does tours, if you love horses this is definitely a place to visit. The gallery is by the entrance opposite the shop and cafe so anyone can pop in and see the artworks.
Society of East Anglian Watercolourists Exhibition
3rd February 2022 - 27th February 2022
Handa Gallery, Wells Maltings, Wells-Next-the-Sea, Norfolk NR23 1AU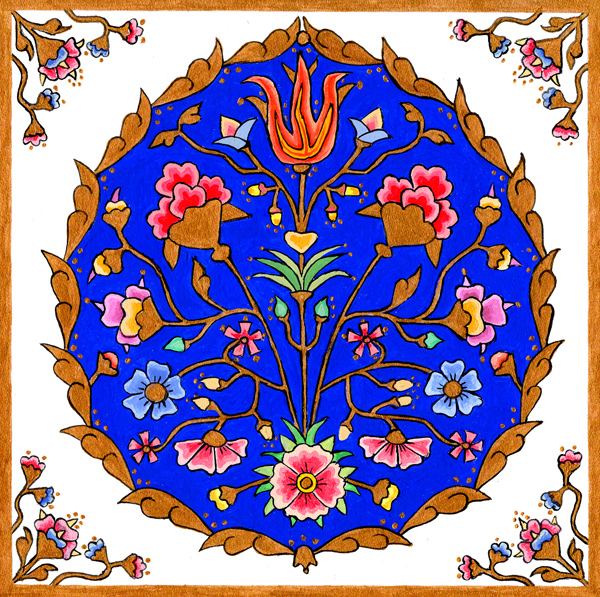 During the lockdowns I learnt a little about Turkish designs. I have always loved pattern, colour and gold so I explored some of the tiles and paintings in these ancient designs.
I made three designs over Christmas 2021 when, for the second year, my family either had covid or were working the Christmas shifts. I was very pleased with the results although I have probably strayed from pure Tezlip designs. Although different from my regular paintings in oil with influences on Northern Medieval manuscripts, I was still making up patterns and using tiny details but I was using gouache, paints that previously I had only used at art college.
I entered 2 of the designs in the Society of East Anglian Watercolorists selected exhibition and was thrilled when one of my designs was chosen. I am planning to do more for other exhibitions that are coming up.
Winter Open Studio 2021
4th December 2021 - 5th December 2021
309 Milton Road, CB4 1XQ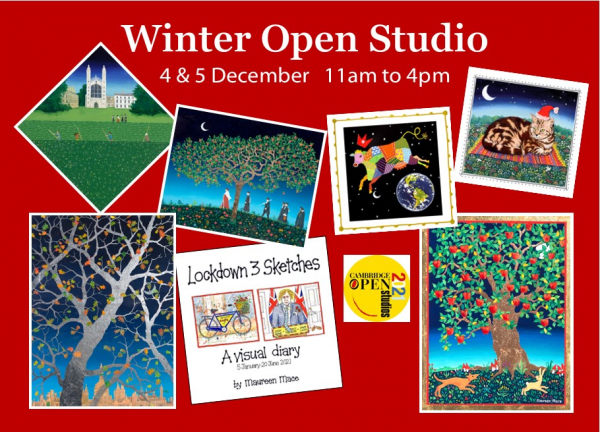 At last I made the decision to have a Winter Open Studio. Now that I have, I am really looking forward to meeting people, catching up with friends and customers and hopefully meeting new art enthusiasts.

I shall be in my own studio on Milton Road (see leaflet above) on Saturday 4 and Sunday 5 December between 11am and 4pm. There will be prints and paintings and greeting cards and my lockdown books and little notebooks - ideal small presents. And as long as there are no further restrictions I should be able to pour everyone a glass of warming mulled wine.

More information at Look out for the yellow flags and A board
Christmas Cracker Exhibition 2021
11th November 2021 - 31st December 2021
Byard Art, Kings Parade, Cambridge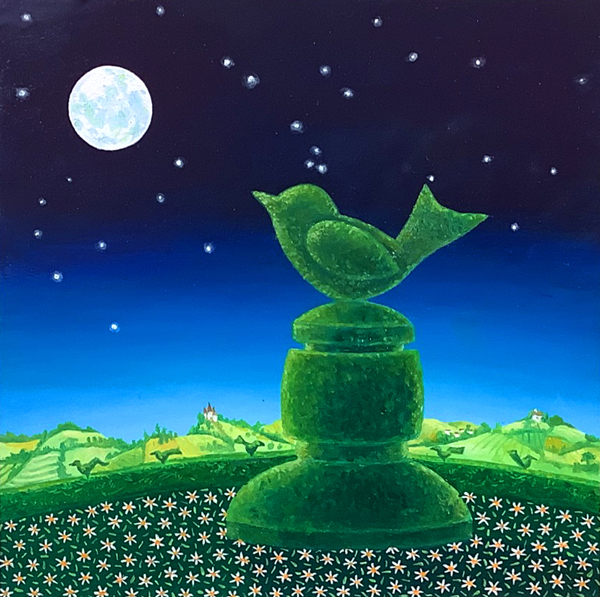 Delighted to be taking part in Byard Art's magical Christmas Cracker exhibition. Open until the end of December, there is a fantastic array of regular and brand new artists including painters, textile artists, 3D sculptors, jewellers as well as beautiful Christmas baubles, pottery and cards.

If you are passing please pop in and if you are thinking of making a trip to Cambridge, visit the gallery which is directly opposite Kings College Chapel.

I have four small paintings there which are on their 'small wall'. Each of my paintings is 20 x 20 cms in a floating frame which measures 29 x 29 cms.

More information at Christmas Cracker exhibition
Mill Road Winter Fair
5th November 2021 - 31st December 2021
Online Art Exhibition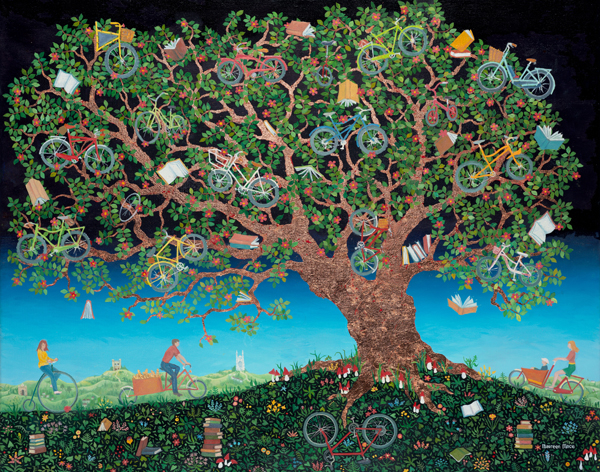 The annual, much loved, Mill Road Winter Fair has again been cancelled this year except for a few stalls on Donkey Green on 6 November and 4 December 2021.

But there is an art exhibition online and I am delighted to be part of this event along with 24 other local artists.

I have 6 artworks there: one of my big colourful oil and copper leaf paintings titled 'Tree of Bikes' as well as smaller works, a couple of framed, limited edition prints and one of my Lockdown Books (both of my books are also available in the shop section of my website.)

We may not be able to have the masses of people, music, colour and the excitement of the Mill Road Fair until next year but do please look at the art exhibition online.

More information at
Online Exhibition link
Maureen Mace at the Mill Road Winter Fair
Cambridge Drawing Society Autumn Exhibition 2021
23rd October 2021 - 30th October 2021
Open 10 - 4 . . 23 - 30 October at the Pitt Building, Trumpington Street, Cambridge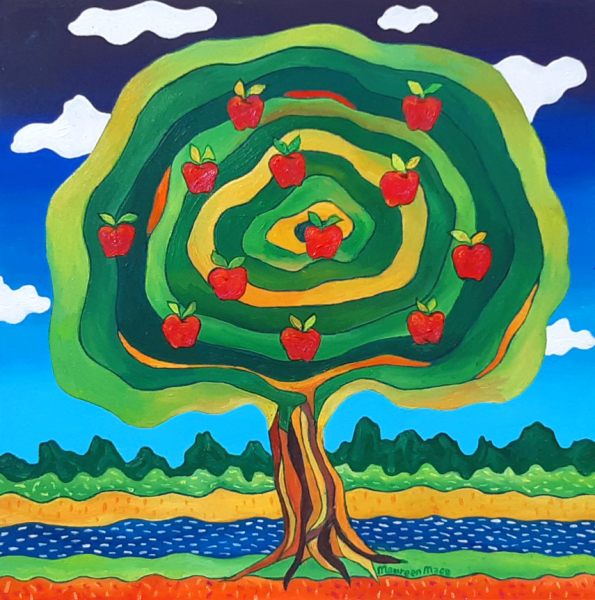 Really looking forward to the first in-person exhibition by the Cambridge Drawing Society for 18 months. I think it will be a great exhibition as local artists display their paintings from the last 2 years.
Due to restrictions there will be no Private View this year but the Pitt Building is very spacious and you will have with plenty of time to peruse the art works in two large rooms.
Delighted to say the society will have some of my books for sale at the event. The books I refer to are my Lockdown Sketches when I drew every day while we were in Lockdown. I shall be giving a talk about my work online, please contact me for further information.
info@maureenmace.co.uk
Paintings at Lux Gallery in Birmingham
13th September 2021 - 17th October 2021
Lux Gallery, 13 Greenfield Crescent, Edgbaston, Birmingham B15 3AU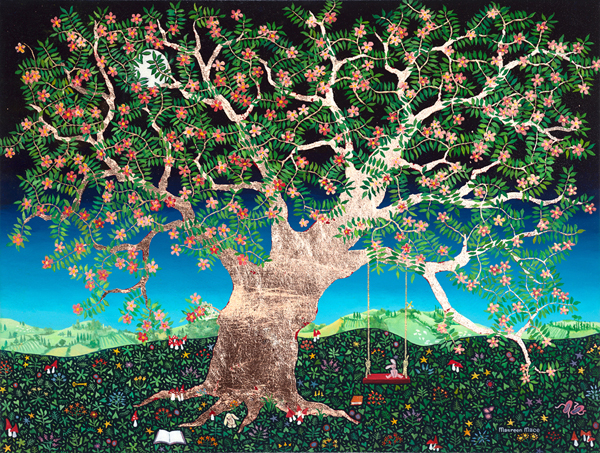 There is a brand new gallery and photographers studio in Birmingham, called Lux Gallery.
I was delighted to be invited to be one of their regular artists and my work is already up on the wall. Owen de Visser, who owns the gallery is already well known as a photographer specialising in wedding photography, food shots and individual and family portraits. The gallery in the beautifully restored part of the new Edgbaston Village. There are lots of independent shops plus cafes and restaurants plus an extremely well stocked wine bar a few doors away.
Owen has already had a huge influence on local artists in the area. He set up Birmingham Open Studios 6 years ago and it gets bigger every year. This year he will be hosting a few artists actually in the gallery on 25/26 September. If you are in the area, do go and take a look. The gallery is open from 10am to 6pm.
LuxGallery.co.uk
info@LuxGallery.co.uk
Summer Show at Byard Art
11th July 2021 - 5th September 2021
Byard Art, Kings Parade, Cambridge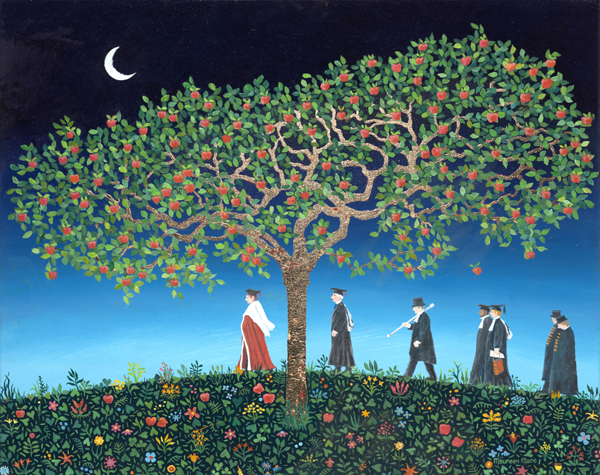 As the third Lockdown eases because of the high rate of vaccinated people, people can move around more freely. Cambridge is already getting busier and now Kings Parade is permanently closed to cars and lorries, many cafes have tables outside and it is a lovely place to spend an afternoon.
The gallery, Byard Art, is opposite Kings College Chapel on Kings Parade. Do pop in and take a look at some of the stunning work from artists all over the world. I love this gallery full of contemporary art and am delighted to be one of their regular artists.
6 of my paintings can be seen as part of the Summer Exhibition. They may not all be on the wall, but the lovely gallery people are always happt to show you anything hidden in their stock room.
https://byardart.co.uk/exhibitions/mixed-summer-exhibition-2021
Cambridge Open Studios
10th July 2021 - 11th July 2021
Pitt Building, Trumpington Street, Cambridge 21RP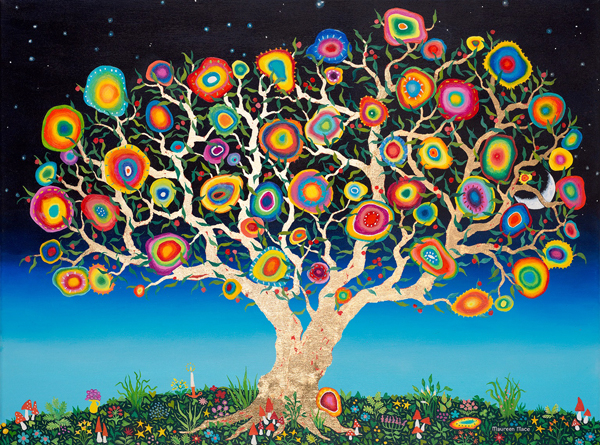 Cambridge Open Studios is a little different this year. Planning for the open studios takes place in January. With a severe lockdown, no-one knew whether the event would be able to open this year so a decision was taken not to produce a physical guides but to have all the information online.

I decided to join other artists at a larger venue after many artists decided not to exhibit for a second year. So I have joined a group of artists and jewellers at the beautiful Pitt Building on Trumpington Street opposite Fitzbillies.

I shall be there on 2 weekends 10/11 and 17/18 July from 11am to 6pm. There will be 12 artists displaying their work so do come and meet us.

More information at Cambridge Open Studios
Location, Location 2021
1st June 2021 - 27th June 2021
Byard Art, Kings Parade, Cambridge CB2 1SJ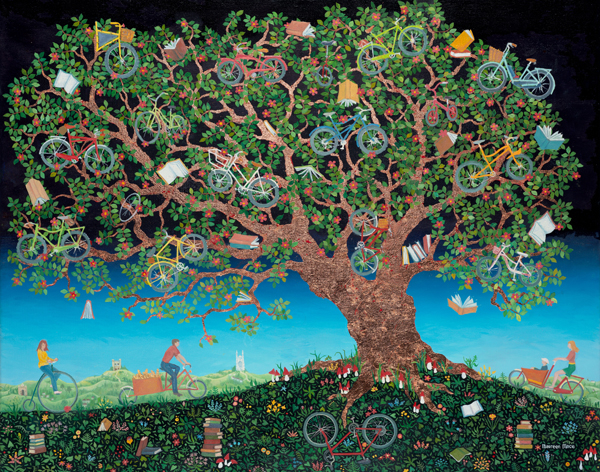 Byard have a regular show at this time of year highlighting Cambridge and the local area.
You can see lots of experimental map artworks, some recycled figures and some amazing paintings and sculptures to suit every taste. I have 2 large tree paintings there this year plus 4 smaller pieces. The image shown is my 'Tree of Bikes' displaying a fe of the kind of bikes seen around Cambridge. The tree trunk and branches are copper leaf and the detail is amazing, I really did get carried away painting these during Lockdown. If you are in Cambridge, do pop in and see the exhibition. Not in Cambridge then you can view some of the art here:
https://byardart.co.uk/exhibitions/location-location-exhibition-2021
Art Exhibition with Maureen Mace
30th May 2021
Tithe Barn, Landbeach CB25 9FA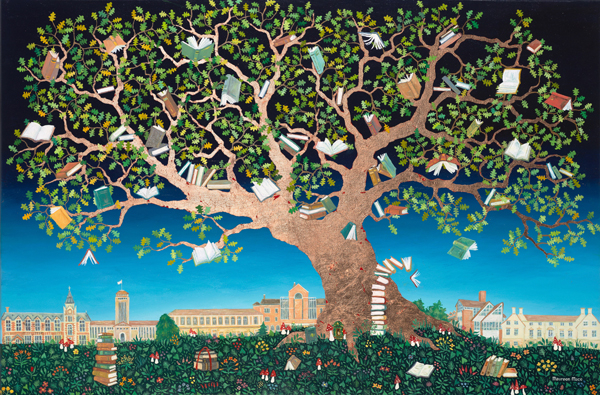 So looking forward to the exhibition at the Tithe Barn in Landbeach as it will be the first time I actually can meet art lovers since the start of the pandemic.
The idea for this exhibition started when one of the volunteers who are renovating the Barn visited me at my Open Studio. It soon became apparent that we loved Medieval Art and the manuscripts as well as the history from that time.
The Tithe Barn was build around 800 years ago close to the parish Church in Landbeach. Matthew Parker was appointed a cleric at All Saint's Church and later, during the reformation when he was archbishop, managed to save hundreds of manuscripts from being burnt. Later he became master at Corpus Christi, part of the University of Cambridge, and eventually The Parker Library was set up there to house his books - and this is the place I go to draw from the manuscripts.
Now the Tithe Barn is, almost, restored there are many events to raise the profile of the place and to ensure the Barn continues it's long historical journey.
This exhibition has been cancelled twice but is set now for Sunday 30 May 2021 which is a Bank Holiday. There will also be a few artists from Cambridge Drawing Society as well as volunteers to explain the history and provide tea and cakes.
If, like me, you love the humour, colour and gold leaf of old manuscripts and paintings, come along and see how I bring this magnificent era up to date.
Cambridge Drawing Society online exhibition.
12th April 2021 - 22nd May 2021
Cambridge Drawing Society website (link below)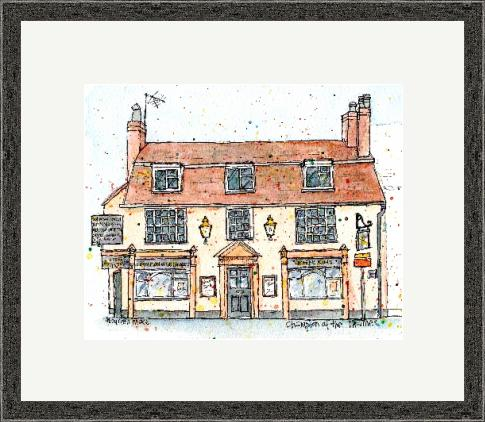 As a member of Cambridge Drawing Society I get the opportunity to exhibit twice a year; in Spring at the Pitt Building on Trumpington Road and in the Autumn at the Leys School. During the pandemic all these shows have had to be cancelled.
This year the web designers have been busy and for the first time we will have an online exhibition. Of course we would all prefer people to get up close to our work but it is good that our work can be seen by an audience albeit online.
During lockdown I have been really busy painting, you will be able to see some of my work at Byard Art in May and June; but I have also been very busy sketching both with Urban Sketchers when allowed and sketching every day for my Lockdown sketches (more about that soon!).
I have 4 artworks in the online Cambridge Drawing Society exhibition of which 3 are Urban Sketches. The exhibition runs from 12 April to 23 May 2021. Here is a link to the site and I will update it when the exhibition starts.
Christmas Cracker 2020
10th November 2020 - 24th December 2020
Byard Art, 14 King's Parade, CB2 15J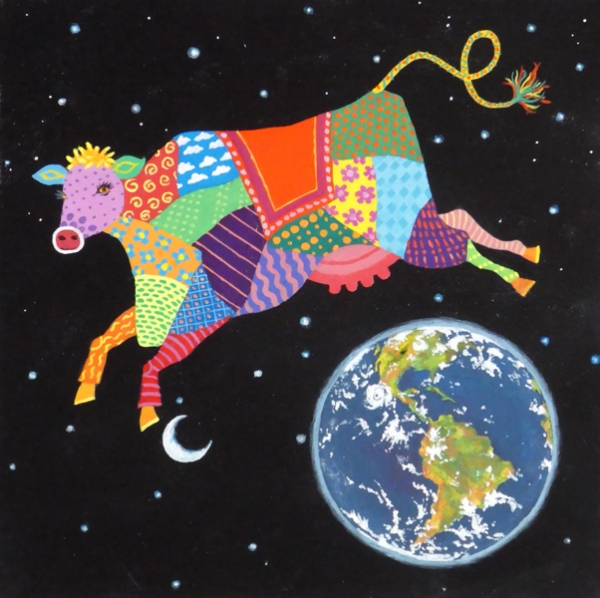 This is the third year I have been invited to exhibit in Byard Art's glorious Christmas Cracker Exhibition.
The gallery is a riot of colour full of amazing art and gifts to explore. There are witty pictures, a wall of small paintings, some superb pottery, contemporary sculptures and masses more made by the gallery's regular artists plus a lot of extra exciting goodies to bring joy during the season.
The gallery is open for 'click and collect' and everything and anything can be seen on their online exhibition. If you live in Cambridge or are visiting our wonderful city look in the windows, be amazed and order via the website or knock on the door. A staff member will be there during opening times to answer any questions and show you something off the walls.
Online link: https://byardart.co.uk/exhibitions/christmas-cracker-2020
Link to my art page at the gallery: https://byardart.co.uk/artists/maureen-mace
Society of East Anglian Watercolourists
23rd October 2020 - 6th December 2020
Selected exhibition online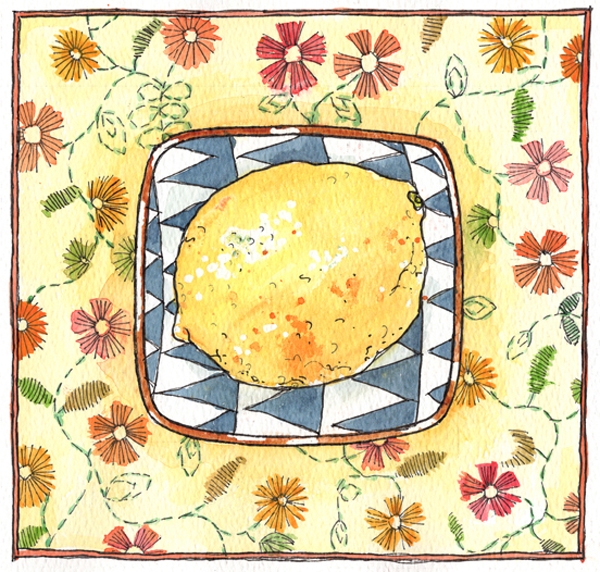 Delighted to have two watercolour and ink drawings accepted for the Society of East Anglian Watercolourists (SEAW), Selected Exhibition 2020.
I don't usually think of myself as a watercolour artist although I make an enormous amount of quick drawings and sketches in watercolour and fineliner. They provide me with a freedom that I don't have in my oil paintings where the ideas and detail are my priority. But I love doing the quick sketches, they actually take an hour or two. I rediscovered the quick sketching with Cambridge Urban Sketchers and I regularly join online drawing-a-day group. During the second lockdown I have set myself a task to do a sketch every day of the lockdown. With little going on in the way of exhibitions it gives me a drawing goal each day.
The two sketches I entered were created alongside my students who I now teach via Zoom and WhatsApp. The lemon painting was for the theme 'Yellow' and the cups and saucers were for the theme 'Something old'. I chose the cups and saucers as they were given to me, one at a time, every birthday and Christmas by my lovely Auntie Trixie. We rarely use them but I love them and the memories my aunt.
The exhibition can be found online here: https://eastanglianwatercolourists.co.uk/seaw-selected-exhibition/
Tithe Barn Art Exhibition
Tithe Barn, opposite 2, Waterbeach Road, Landbeach CB25 9FA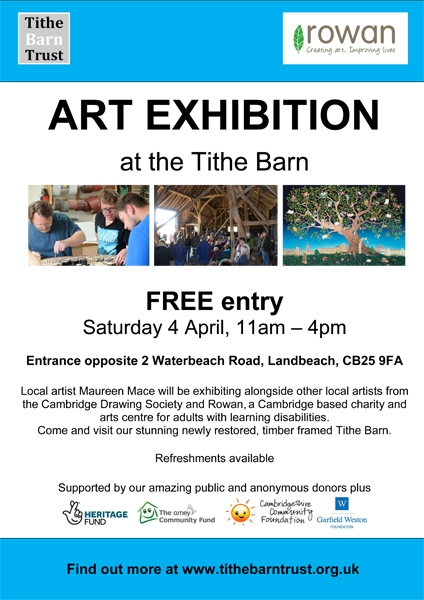 THIS EXHIBITION HAS BEEN CANCELLED DUE TO THE CORONAVIRUS.
Little did I know who I would meet when I took part in Cambridge Open Studios in 2018!
One of my visitors was very interested in the drawings I had been doing from some medieval books at the Parker Library, Corpus Christi which is part of the University of Cambridge. I learned she was one of the 'Friends of the Tithe Barn, Landbeach', a small village to the north of Cambridge with a very old barn thought to have been built before 1459. She told me of how the group were trying to get grants to restore the lovely old building and that Matthew Parker used to be the rector of Landbeach Church and also the Master of Corpus Christi and it was he who collected the old manuscripts that I was drawing from.
Later the 'Friends' invited me to exhibit at the Barn after it had been restored. Also exhibiting at the same time - it is a very large space - are some artists from the Cambridge Drawing Society and Rowan, a vibrant and active part of the art community in Cambridge working with people with learning disabilities.
The art exhibition is one of the inaugural events so if you have a love of history, or a love of art, please come along to this free event.
Winter Open Studio
23rd November 2019 - 24th November 2019
The Old Dovecote, 5 Church Street, Cambridge CB4 1XQ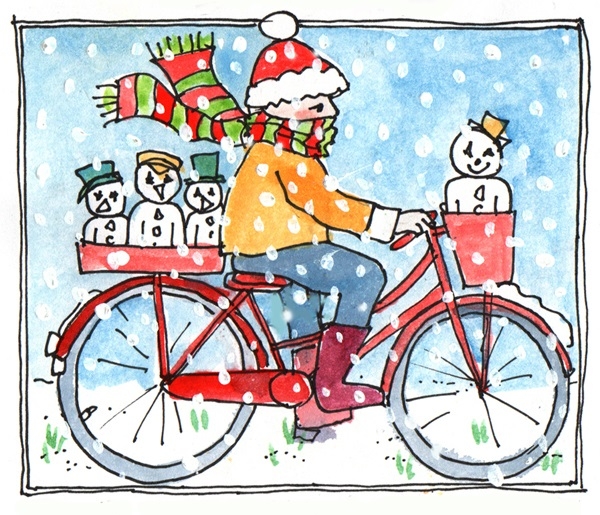 It's mulled wine and fairy lights time.

What can be better than to visit ten artists in 6 different venues within a short walk or cycle ride round north Cambridge? Perhaps you are looking for something unusual as a gift for a friend of member of your family.

I shall be joining artist Carmen Renwick and jeweller Indira at potter Diana Kazemi's beautiful home in old Chesterton on 23 & 24 November from 10am to 5pm. We will be setting up the exhibition on Friday and will be ready to switch on the fairy lights when we open on Saturday morning. We would love to welcome you to our event that is free of charge.

Come and meet the artists who make the art.

Can't make that weekend? Please contact me at info@maureenmace.co,uk

More information at Maureen Mace, Facebook
Christmas Cracker exhibition
9th November 2019 - 24th December 2019
Byard Art, 14 King's Parade, Cambridge CB2 1SJ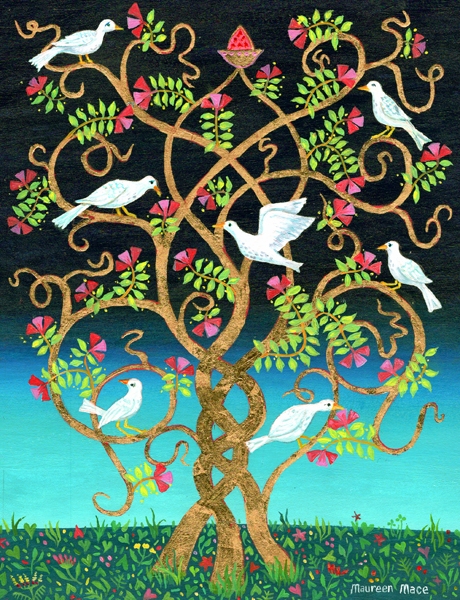 It's almost Christmas again and the wonderful Christmas Cracker exhibition at Byard Art.

I think this may be my favourite exhibitions of the whole year. There are a myriad of artists taking part -including me! I have 4 small pieces this year which will be hanging on their 'small wall'. Each picture is framed to be about 12 x 12 inches (30 x 30 cms). Look out for some 22 carat hold leaf on mine and a few other artists also have touches of gold to make this a rich and beautiful exhibition.

More information at byardart.co.uk
Birmingham Open Studios
12th October 2019 - 13th October 2019
94 Gristhorpe Road, Selly Oak, Birmingham B29 7SL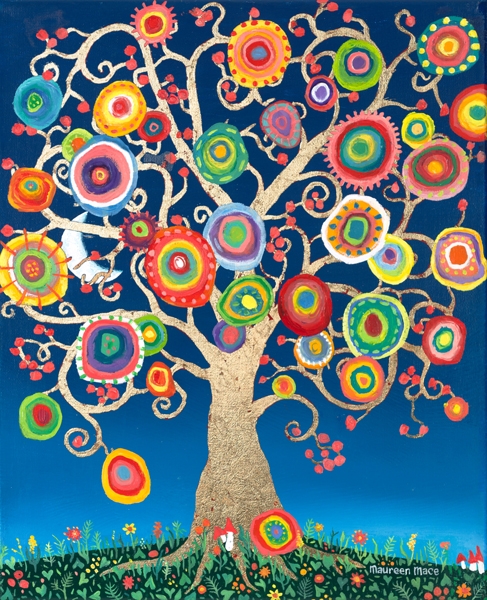 I love Open Studios and have been taking part in the Cambridge event every year for 15 years. I love the concept of people coming to visit your studio and seeing how you work and it is lovely to chat about what I am doing, what got me to this point and where I want to be.

My son, Owen de Visser, has watched this for many years and has followed his own creative instincts and is now a successful photographer in Birmingham. He is also a whizz at organising and he saw a gap in the market where all art can be accessed and set up via his website, Arts Brum.

For the last three years he also set up and runs Birmingham Open Studios, I do admire his energy. He started small when he lived in Moseley and has expanded the area since. He has helpers now although is still very much the organising force.

He has recently moved to Selly Oak and this year I was delighted when he invited me to join him. So please come and visit the mother and son combo during the weekend 12 & 13 October

More information at
Birmingham Open Studios
Owen de Visser Photography
Website supporting local Birmingham artists
Mixed Summer exhibition 2019
4th July 2019 - 1st September 2019
Byard Art, 14 King's Parade CB2 1SL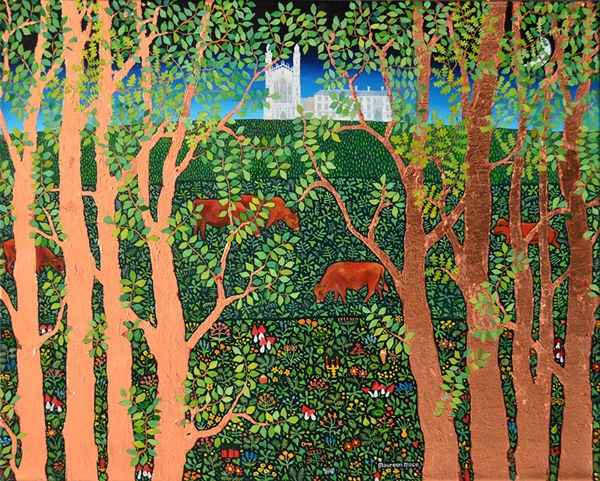 Byard Art has a changing show during the summer months with their gallery artists. I love being one of their artists as the staff are so lovely and they work really hard continually changing the exhibitions and chatting to customers. And of course they are directly opposite King's College Chapel so they have a fantastic view.

I have four paintings there currently and I will one or two more during the show.

The great thing about the gallery is that if my work is not on the wall and you ask to see it they will bring it out and show you.

More information at Summer Exhibition at Byard Art
Cambridge Drawing Society Spring Exhibition
23rd March 2019 - 30th March 2019
Pitt Building, Trumpington Street, CB2 1RP
The Spring Exhibition at the Pitt Building is crammed full of varying art by local artists. All those showing their work must have passed a panel to join the Cambridge Drawing Society. There is often quite a lot of competition to get work accepted and on the wall so I am delighted all 4 of my paintings are accepted.
The exhibition is a good showcase to see local artists and the style of work they produce and often I get visitors at Open Studios who have seen my work there and want to see more and maybe buy a piece.
The secretary organises the artists. A panel which includes some committee members choose what art will be accepted for the exhibition and the secretary is brilliant at organising us all by giving us specific jobs to receive the works, hang them, steward the exhibition and take it down when it is all over. It is all done with humour and precision - now that is a real feat when dealing with a bunch of artists.
The Cambridge Drawing Society has two exhibitions a year, next one at the Leys School during the Autumn half term.
Addenbrookes Art exhibition
20th September 2018 - 15th September 2018
Addenbrookes long corridor near the treatment centre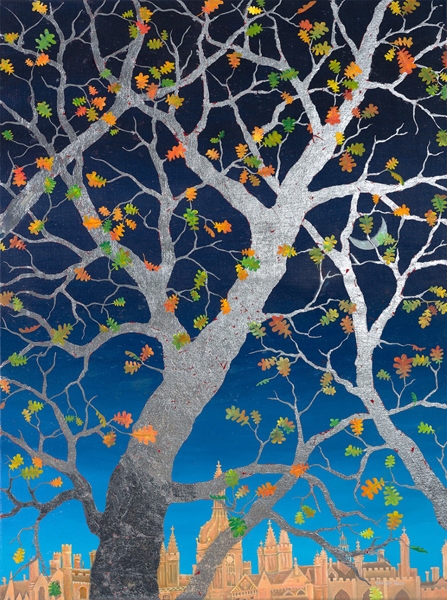 Last year two of my images were chosen to be in the Cambridge Art Book. The book is on sale in all the galleries in the city plus various other outlets and has been extremely successful at showing an artists view of our beautiful city.
Following on from its success, Addenbrookes has invited a selection of the artists who contributed towards the book to exhibit a painting in the long corridor in the section near the Addenbrookes Treatment Centre.
If you find yourself visiting the hospital please take a look at the exhibition. Alongside our paintings there are an amazing amount of images to keep visitors, those who have to stay in the hospital and the staff entertained. For every sale we make the hospital will receive money towards vital help for the patients.
Open 24 hours a day.
Summer Exhibition
5th July 2018 - 2nd September 2018
Byard Art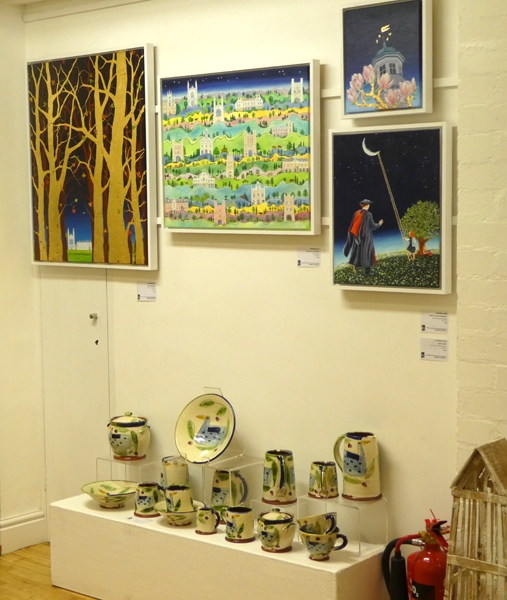 This will be the first Summer Exhibition I will be doing with Byard Art and I am delighted to have been asked to submit four paintings.
I just LOVE this gallery