Terms and Conditions
By accessing or using this website you agree to be bound by these terms and conditions.
Maureen Mace may revise these terms and conditions from time to time to ensure the highest level of protection for our users and to comply with legislation.
Legal Obligation
We reserve the right to use or disclose any information without notice or consent as needed to satisfy any law, regulation or legal request; to conduct investigations of consumer complaints or possible breaches of law; to protect the integrity of our site and our property; to protect the safety of our visitors or others; to fulfil your requests; or to cooperate in any legal investigation.
Copyright
All artworks on this site are copyright Maureen Mace, all rights reserved
Disclaimer
Maureen Mace provides this website, including all written and graphical content, on an as is, where is basis and makes no claims of suitability for any particular purpose. Maureen Mace will endeavour to ensure that any site linked to or from the pages of https://www.maureenmace.co.uk will be of suitable content but is not responsible for the content of these external sites. Maureen Mace will not be held responsible for any loss, damage or injury caused by, or related to, the use of any information contained on this website at any time and provides no warranty of any kind.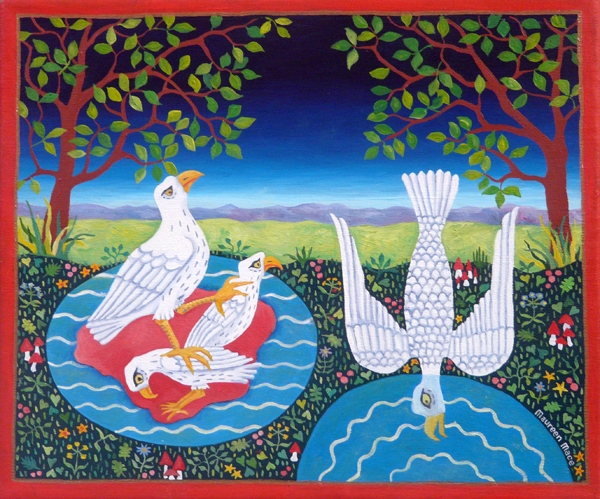 Bird Bath
Recently I have become a reader at the Parker Library, Corpus Christi in Cambridge. Needless to say I am very proud of this and love to see all the wonderful Medieval manuscripts there and to draw from some of the images made over 700 years ago.
One of my favourite books is the Peterborough Bestiary and this is my contemporary version of one of its beautifully gilded illustrations. Bestiaries have been described as 'A Moralized Natural History Illustrated with Curious Pictures'.
The birds in the painting are Eagles. They are sharp sighted and can see tiny fish from afar descending like a catapalt to catch them. When an eagle grows old its wings become heavy and its eyes misty. The bird flies up to the heavens where the sun singes its wings and clears its eyes before the bird hurtles down into water when it it restored to strength and clarity of sight.