Terms and Conditions
By accessing or using this website you agree to be bound by these terms and conditions.
Maureen Mace may revise these terms and conditions from time to time to ensure the highest level of protection for our users and to comply with legislation.
Legal Obligation
We reserve the right to use or disclose any information without notice or consent as needed to satisfy any law, regulation or legal request; to conduct investigations of consumer complaints or possible breaches of law; to protect the integrity of our site and our property; to protect the safety of our visitors or others; to fulfil your requests; or to cooperate in any legal investigation.
Copyright
All artworks on this site are copyright Maureen Mace, all rights reserved
Disclaimer
Maureen Mace provides this website, including all written and graphical content, on an as is, where is basis and makes no claims of suitability for any particular purpose. Maureen Mace will endeavour to ensure that any site linked to or from the pages of https://www.maureenmace.co.uk will be of suitable content but is not responsible for the content of these external sites. Maureen Mace will not be held responsible for any loss, damage or injury caused by, or related to, the use of any information contained on this website at any time and provides no warranty of any kind.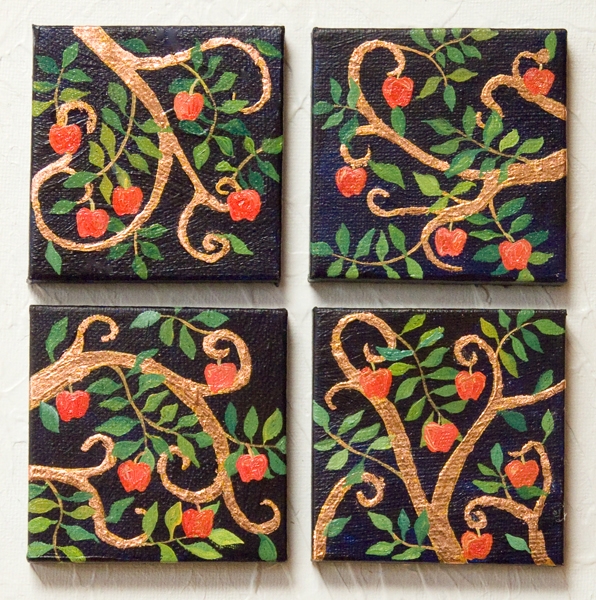 Apple Quarters
This is my second painting made up of four of these tiny 7 cms canvasses and could be hung beside 'Tree Quarters'.
This painting is about the pattern of tree branches. Each mini canvas has a painting of the end of a curling branch which contains some lovely red apples.
The painting is mounted and framed in a box and is protected by glass.
'Apple Quarters' - what else could I call it?