Delivery Information
Shipping is limited to the UK mainland only.
UK mainland delivery is included in the price per item.
Standard delivery is expected within 1-5 working days. Please allow extra time for bank / public holidays. We will always keep you informed of your delivery process. Please check your delivery and product details before placing the order as we will not be able to change any order details once the order is placed. If you enter any incorrect details including delivery address, we will not be able to change it for you in time.
Orders are delivered by courier or general post and may require a signature. If you request the parcel to be left in a safe place, it is done at your own risk and we cannot be held responsible for any theft or damage to the parcel. Usually, packages will try to be delivered/redelivered approximately 3 times (by courier) and if, after those attempts to deliver, it will be returned at a cost to us. If you then require this to be redelivered, we will have to pass this cost onto you.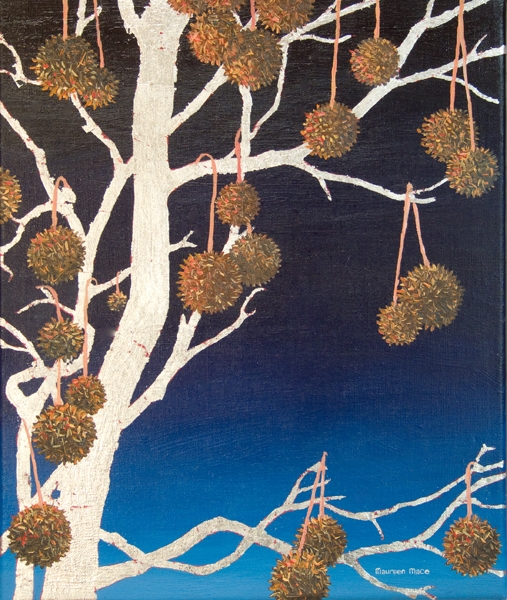 Paris Plane
A trip to Paris in spring focused my attention on the plane trees with their wonderful golden balls which stay on the tree throughout the winter. Beautiful against the Seine.
One of my more minimal paintings, just silver branches with the seed balls catching the light of moon in the night. I have been told the design has a Japanese influence....