Delivery Information
Shipping is limited to the UK mainland only.
UK mainland delivery is included in the price per item.
Standard delivery is expected within 1-5 working days. Please allow extra time for bank / public holidays. We will always keep you informed of your delivery process. Please check your delivery and product details before placing the order as we will not be able to change any order details once the order is placed. If you enter any incorrect details including delivery address, we will not be able to change it for you in time.
Orders are delivered by courier or general post and may require a signature. If you request the parcel to be left in a safe place, it is done at your own risk and we cannot be held responsible for any theft or damage to the parcel. Usually, packages will try to be delivered/redelivered approximately 3 times (by courier) and if, after those attempts to deliver, it will be returned at a cost to us. If you then require this to be redelivered, we will have to pass this cost onto you.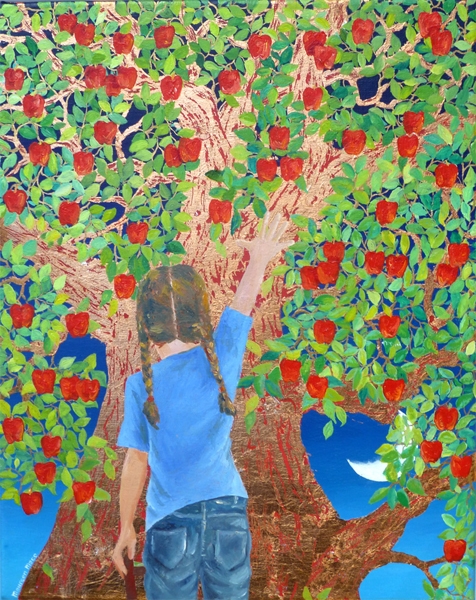 Forbidden Fruit
Some trees are just huge. I was lucky enough to travel around Australia before visiting my sister near Perth a few years ago, but before we got there we visited the Botanical Gardens of Sydney, Melbourne and Perth. The latter had a dry area with enormous trees and scrub so as we ventured along the path we looked up into the canopies from very close which foreshortened them to appear even larger.
This painting started with the foreshortening but that was not enough.
I remembered being reprimanded as a child for scrumping, I never did it again.
So here is my 'memory' from childhood.