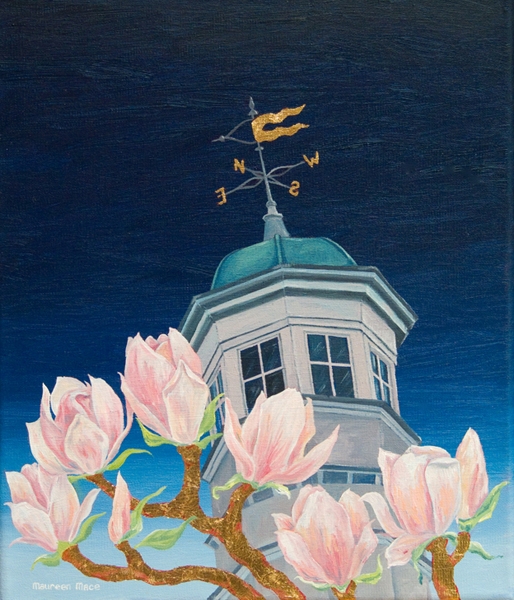 Christ's College Chapel
From Hobson Street in Cambridge there are two lovely towers peeping over the wall of Christ's College. This pretty tower in the painting is on top of the chapel and has a golden weather vane.
The wall in front of the tower has been magically transformed into a much nicer magnolia tree complete with shimmering golden branches.
I paint detailed, dream-like images in oils on canvas which incorporate rich night skies and a shining moon. Images inspired by the detail and pattern of medieval art, tapestries and my imagination. My work is very influenced by the wonderful city of Cambridge where I live.
Photographs can never do justice to my paintings as they change when the light catches the silver or copper leaf. If you would like to view my actual paintings please contact me to arrange a visit to my studio. My work can also be seen at exhibitions: look out for the Christmas Cracker Exhibition at Byard Art from 10 November to 24 December and I shall also be taking part in a Winter Open Studio at 5 Church Street 24 & 25 November 2018.