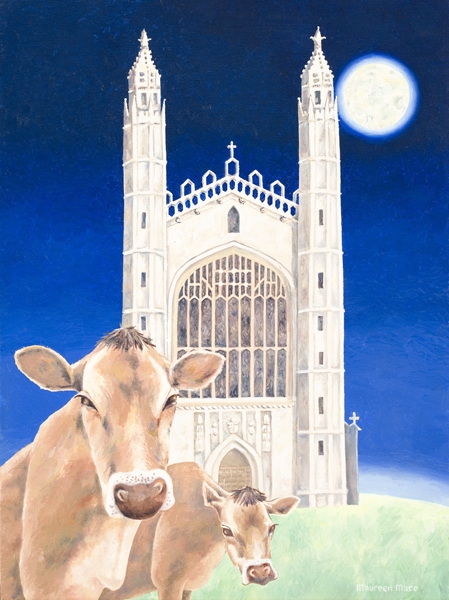 Kings College Cows
The wonderful King's College Chapel is the most famous view in Cambridge and one of the reasons so many visitors flock to the city every year. As you walk along the Backs in the summer a small group of cows graze in the meadow oblivious to the majesty of their surroundings.
Cows roam on many of the green spaces in the city and are an integral part of living here and are loved by many - the one on Midsummer Common even have their own Twitter account!
King's College was founded in 1441 by Henry VI (1421-71) and is one of the 31 colleges in the University of Cambridge. King's has an outstanding academic record and is also world-famous for its Chapel and choir. The Christmas Eve service from King's (A Festival of Nine Lessons and Carols) is broadcast to millions around the world
I paint detailed, dream-like images in oils and acrylics, on canvas which incorporate rich night skies and a shining moon. Stories inspired by the detail and pattern of medieval art, tapestries and my imagination. My work is very influenced by the wonderful city of Cambridge where I live.
Photographs can never do justice to my paintings as they change when the light catches the silver or copper leaf. If you would like to view my actual paintings please contact me to arrange a visit to my studio. My work can also be seen at Byard Art, 14 King's Parade, Cambridge CB2 1SJ, opposite King's College Chapel.