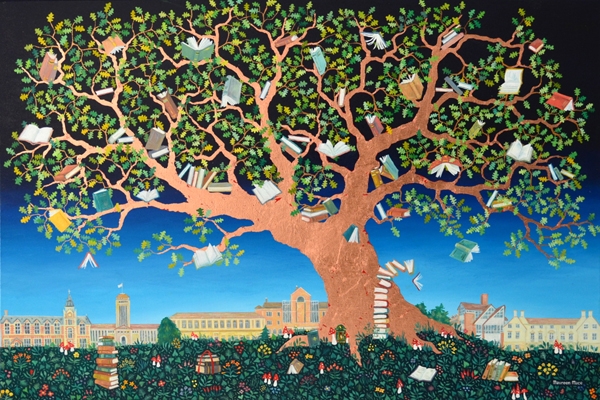 Cambridge Tree of Books
I love painting trees and making them about something else!
This painting is about the books in Cambridge though I haven't titled any of them. The University has thousands of them, actually probably millions and there are many more in the local bookshops and council libraries and schools. They reside in student's rooms, hang around on shelves waiting to be sold and lurk in libraries waiting to be read. There are old books, I mean really old at places like the Parker Library and very contemporary books at the wonderful Heffers Bookshop.
Unfortunately local libraries are closing down rapidly but the libraries at the two universities in Cambridge make up for that even though people are reading less and getting more information from the Internet
In the background of my painting are a few of the well known libraries in Cambridge including the University Library and Wren Library.
The libraries depicted in this painting are from left to right, Pembroke Library, University library, Wren Library, St John's Library, Trinity Hall Library, Pepy's Library.
I paint detailed, dream-like images in oils and acrylics, on canvas which incorporate rich night skies and a shining moon. Stories inspired by the detail and pattern of medieval art, tapestries and my imagination. My work is very influenced by the wonderful city of Cambridge where I live.
Photographs can never do justice to my paintings as they change when the light catches the silver or copper leaf. If you would like to view my actual paintings please contact me to arrange a visit to my studio. My work can also be seen at Byard Art, 14 King's Parade, Cambridge CB2 1SJ, opposite King's College Chapel.