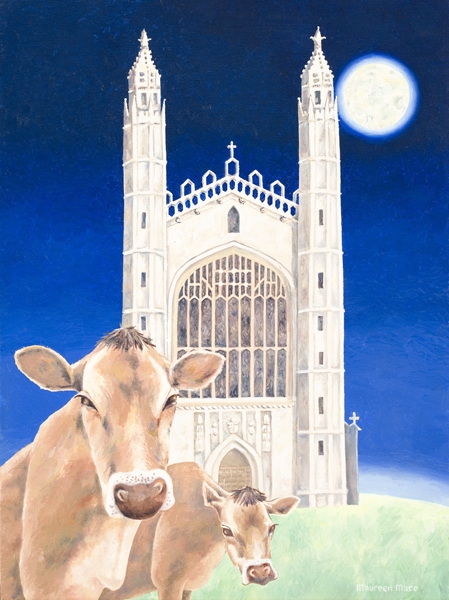 Kings College Cows
Cambridge Gallery
Oil on canvas
15.5 x 11.5 inches / 39 x 29 cm
SOLD
The wonderful King's College Chapel is the most famous view in Cambridge and one of the reasons so many visitors flock to the city every year. As you walk along the Backs in the summer a small group of cows graze in the meadow oblivious to the majesty of their surroundings.
Cows roam on many of the green spaces in the city and are an integral part of living here and are loved by many - the one on Midsummer Common even have their own Twitter account!
King's College was founded in 1441 by Henry VI (1421-71) and is one of the 31 colleges in the University of Cambridge. King's has an outstanding academic record and is also world-famous for its Chapel and choir. The Christmas Eve service from King's (A Festival of Nine Lessons and Carols) is broadcast to millions around the world.
The image is available as a print and also a card. At Christmas time, I add Santa hats to the cows and sell them as Christmas cards.