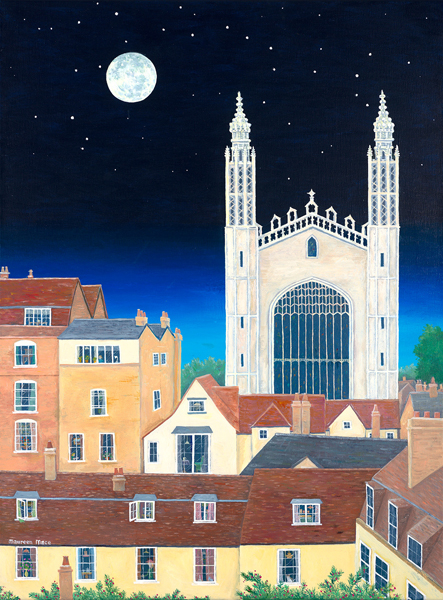 Heart of Cambridge
Cambridge Gallery
Oil on canvas
25.5 x 22 inches / 65 x 55 cm
Original for sale £1500 (GBP)
This painting is the view from the stairs to the old planning offices at the Guildhall on Market Square, Cambridge. It must be one of the most amazing views in Cambridge and yet it is seen by very few people.
In the painting Kings College Chapel looms large over the back of the buildings on Kings Parade. The buildings that are on Kings Parade include Byard Art, the Kings College Shop, Primavera, The Fitzwilliam Shop and Benet's Cafe amongst others.
Closer to the viewer is St Edward's Passage with G. David Bookshop just out of view on the bottom right. Cambridge is crammed with well known shops and premises.
The majority of the housing and shops in this painting are owned by King's College with a lot of postgrads and overseas students living in the area. For this reason I have imagined what goes on behind the net curtains as students spend their time studying and writing.