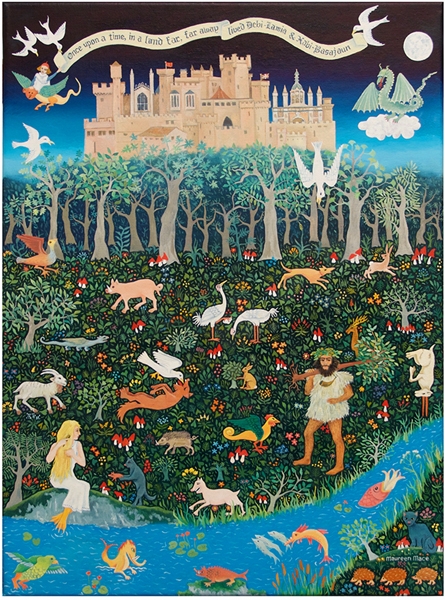 Basoko Dreams
Other Paintings Gallery
Oil on linen canvas
24 x 18 inches / 61 x 46 cm
Commission
I was commissioned to paint a Medieval inspired scene by a visitor to Cambridge Open Studios in 2018. I knew it would take a long time and that I wouldn't be able to start it for a while due to other exhibition commitments.
The painting was for a couple who lived in the Basque area of Spain although one of them was currently living in Cambridge and working at Arm Holdings. We discussed the painting reducing it from the original concept of three parts to one fairly large design. I was really excited about the project and it occupied a lot of my thoughts before I even sent a rough design to the couple at this time both living in Spain.
I started painting at the beginning of November 2018. All correspondence was now done by email. As with any project it grows and I sent images to show my progress. Many things changed over the course of time but all made the painting better. With a real interest in Medieval Art and drawing from various books illustrating the Old Bestiaries at the Parker Library, Corpus Christi which is part of the University of Cambridge, I slowly added the main figures and the accompanying birds and animals based on both real and imaginary beasts.
In between the characters I added a carpet of millefleur.
I completed the painting earlier this month and it will be collected by a friend of the new owner and driven across to Spain before it is framed and hung.
I have really enjoyed making this artwork and I think it is my best painting ever. I hope that it will be enjoyed down the generations.
The new owner has titled the painting 'Basoko Dreams' which translates as 'the dreams in the forest'. I will have a print of the painting on show at Cambridge Open Studios on 20/21 and 27/28 July 2019.