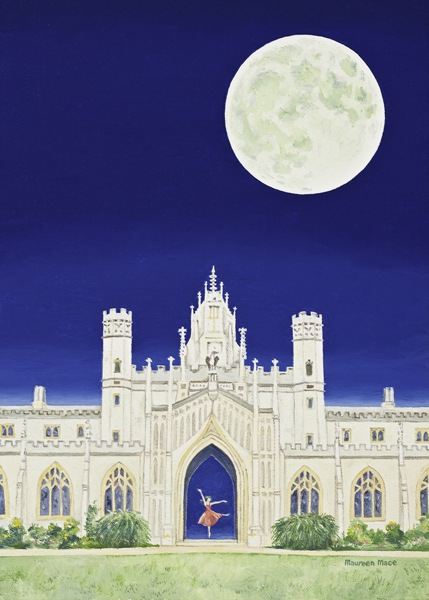 Out of the Blue at St. John's
Another bit of fantasy in Cambridge. A ballet dancer in a pink dress practices her art before the entrance to New Court, St. John's, oblivious to her beautiful surroundings.
Meanwhile the moon looms large in the sky.
I paint detailed, dream-like images in oils on canvas which incorporate rich night skies and a shining moon. Images inspired by the detail and pattern of medieval art, tapestries and my imagination. My work is very influenced by the wonderful city of Cambridge where I live.
Look out the brand new Cambridge Art Book that features 51 artists and their impressions of Cambridge. I am delighted to have two images in this book. Please contact me if you would like to buy a copy.
Photographs can never do justice to my paintings as they change when the light catches the silver or copper leaf. If you would like to view my actual paintings please contact me to arrange a visit. My work can also be seen at exhibitions. Look out for the 'Along Your Street' exhibition at Byard Art between 31 May and 1 July 2018.