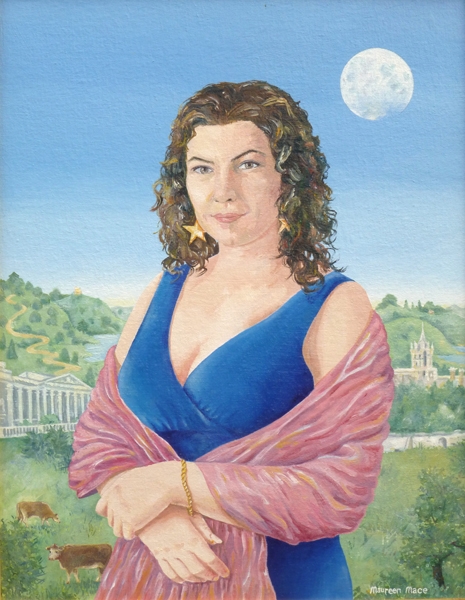 Behind a Painted Smile
Painted for an exhibition by the same name, I took the title literally and thought of the most famous smile known today - the Mona Lisa.
I had always wanted to paint Evelyn, my daughter, so she posed for me in the same position. In the background is the Fitzwilliam Museum where she works, part of a painting by Domenico Ghirlandaio which hangs there, the Fen at the back of the Museum and of course the cows.
I paint detailed, dream-like images in oils, or more recently acrylics, on canvas which incorporate rich night skies and a shining moon. Stories inspired by the detail and pattern of medieval art, tapestries and my imagination. My work is very influenced by the wonderful city of Cambridge where I live.
Photographs can never do justice to my paintings as they change when the light catches the silver or copper leaf. If you would like to view my actual paintings please contact me to arrange a visit to my studio. My work can also be seen at exhibitions: look out for the 20 x 20 Exhibition at Byard Art in May 2020, Cambridge Drawing Society exhibitions and Cambridge Open Studios.