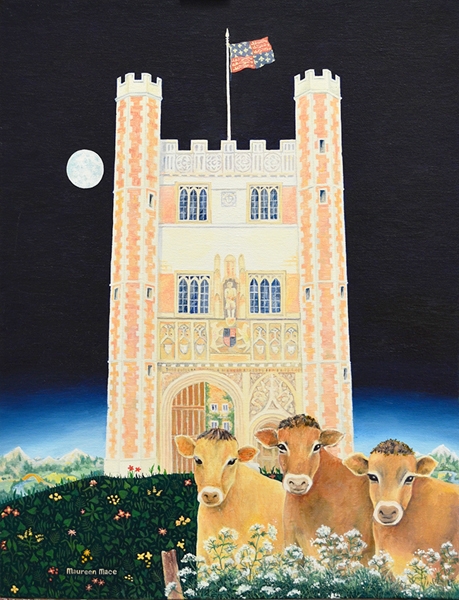 Trinity
Cows are very much part of Cambridge as they are seen in the city's green spaces such as Midsummer Common, Coe Fen and the Backs. The locals love them and especially enjoy their first view on the commons each year which means Spring has arrived.
Here, three cows pose in front of Trinity College behind some cow parsley - only Trinity Gatehouse has been transformed into a field with a medieval landscape in the distance inspired by a scene from a painting exhibited at the Fitzwilliam Museum.
This painting is currently exhibited at the 'Along Your Street' exhibition Byard Art, King's Parade, Cambridge
I paint detailed, dream-like images in oils and acrylics, on canvas which incorporate rich night skies and a shining moon. Stories inspired by the detail and pattern of medieval art, tapestries and my imagination. My work is very influenced by the wonderful city of Cambridge where I live.
Photographs can never do justice to my paintings as they change when the light catches the silver or copper leaf. If you would like to view my actual paintings please contact me to arrange a visit to my studio. My work can also be seen at Byard Art, 14 King's Parade, Cambridge CB2 1SJ, opposite King's College Chapel.