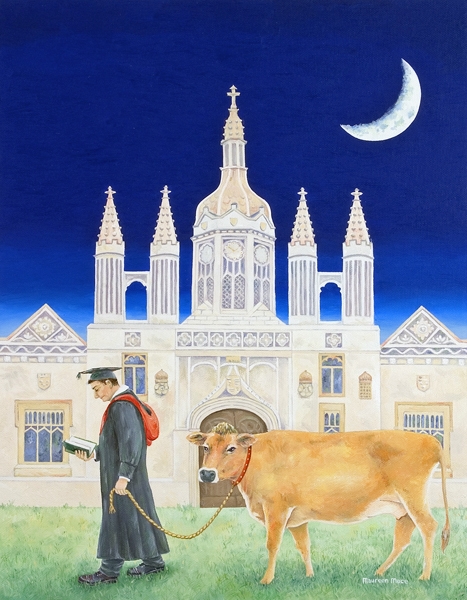 Scholars Parade
Walk along King's Parade in the centre of Cambridge at any time of the year and you will see an assortment of visitors, students, professors, porters and learned people.
At the degree ceremonies, which last several days, the street is full of young people and their tutors dressed in robes.
This don is trying to catch up on some reading whilst he takes his cow out to an imaginary pasture.
I paint detailed, dream-like images in oils on canvas which incorporate rich night skies and a shining moon. Stories inspired by the detail and pattern of medieval art, tapestries and my imagination. My work is very influenced by the wonderful city of Cambridge where I live.
Photographs can never do justice to my paintings as they change when the light catches the silver or copper leaf. If you would like to view my actual paintings please contact me to arrange a visit to my studio. My work can also be seen at exhibitions: look out for the Along Your Street Exhibition at Byard Art in June 2019, Cambridge Drawing Society exhibitions in April and October 2019 as well as Cambridge Open Studios 2019.