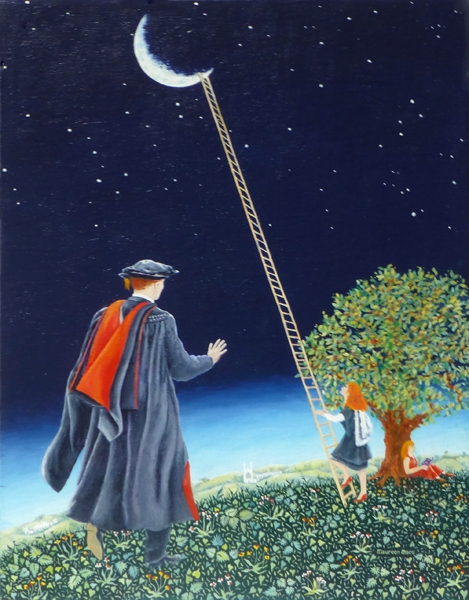 I want! I want!
William Blake's small black and white line engraving from 1793 entitled 'I want! I want!' is an enigmatic flight of the imagination. My version shows a graduate and a don and an image of the girl before she graduated.
It represents the choices we have in life and how we are influenced in them. We all have dreams and ambitions but how many of us achieve them?
I paint detailed, dream-like images in oils, or more recently acrylics, on canvas which incorporate rich night skies and a shining moon. Stories inspired by the detail and pattern of medieval art, tapestries and my imagination. My work is very influenced by the wonderful city of Cambridge where I live.
Photographs can never do justice to my paintings as they change when the light catches the silver or copper leaf. If you would like to view my actual paintings please contact me to arrange a visit to my studio. My work can also be seen at exhibitions: look out for the Christmas Cracker exhibition from 14 November to 24 December.
I shall be inviting people to my studio in November and December. If you would like an invitation please contact me.