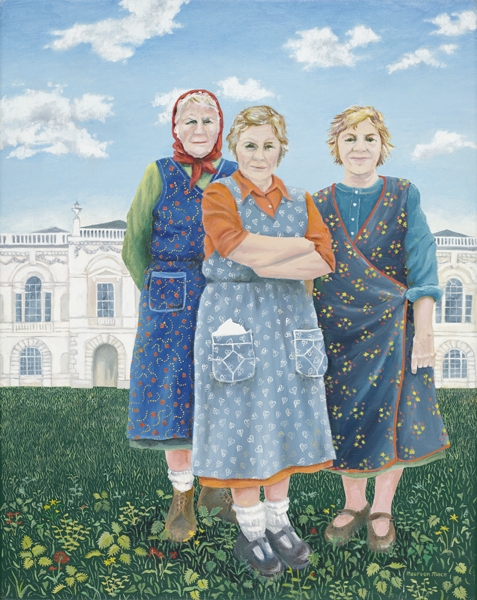 Catharine, Clare and Lucy
The Bedders of Cambridge.
How would the university cope without these hardworking ladies.
Tough, practical with stories to tell, these people are the backbone of a smooth working student's life. Here they are standing on the sacred lawn outside the Senate House amid the non-existent weeds, I have called them Catharine, Clare and Lucy after the female college names.
I paint detailed, dream-like images in oils and acrylics, on canvas which incorporate rich night skies and a shining moon. Stories inspired by the detail and pattern of medieval art, tapestries and my imagination. My work is very influenced by the wonderful city of Cambridge where I live.
Photographs can never do justice to my paintings as they change when the light catches the silver or copper leaf. If you would like to view my actual paintings please contact me to arrange a visit to my studio. My work can also be seen at Byard Art, 14 King's Parade, Cambridge CB2 1SJ, opposite King's College Chapel.