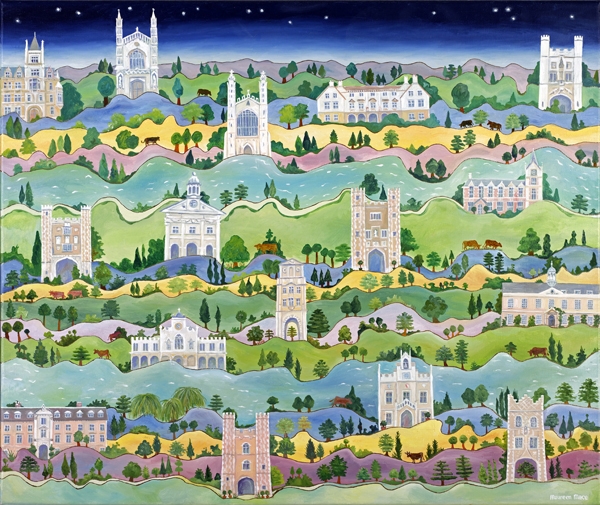 Cambridge Illumination
Cambridge University is made up of 36 colleges, the oldest being Peterhouse. This painting shows the 16 original colleges which attract thousands of visitors every year. Even though I live in Cambridge and they are part of my daily life, they never cease to fill me with awe.
My painting is a bit of a puzzle as I have only shown part of each college, how many do you know as they are a little out of context? Here they are tidied into lines with the river Cam meandering around them and the cows on the commons.
If you would like a list of the colleges shown, please email me.
A print is also available of this artwork.
I paint detailed, dream-like images in oils on canvas which incorporate rich night skies and a shining moon. Stories inspired by the detail and pattern of medieval art, tapestries and my imagination. My work is very influenced by the wonderful city of Cambridge where I live.
Photographs can never do justice to my paintings as they change when the light catches the silver or copper leaf. If you would like to view my actual paintings please contact me to arrange a visit to my studio. My work can also be seen at Byard Art, 14 King's Parade, Cambridge CB2 1SJ, opposite King's College Chapel.
On July 1 & 2 and 8 & 9, I am sharing an Open Studio with Melanie Max at St Andrew's Church, Chesterton CB4 1DH. And on 22 & 23 July I will be back in my home studio at 309 Milton Road for the last week of Cambridge Open Studios 2023. Lots of roadworks along Milton Road at the moment but parking is available opposite my house down Kendal Way. At my home studio you can make your own mini painting with silver or copper leaf.