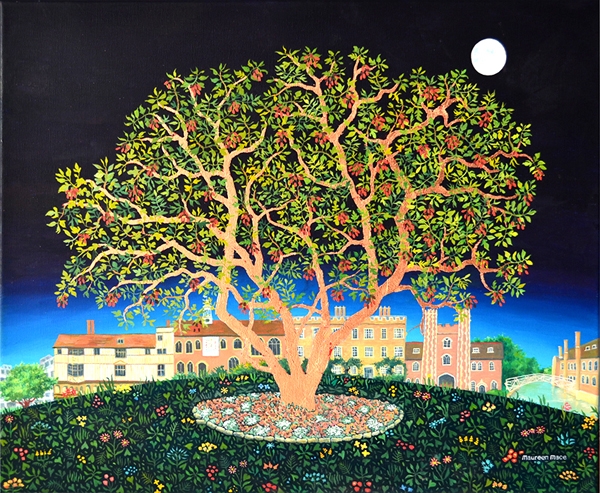 Mulberry Tree, Queen's
Cambridge Gallery
oil on canvas with copper leaf
17 x 21 inches / 43 x 54 cm
Original for sale £1200 (GBP)
Queen's College in Cambridge has a huge range of building styles as it has grown over the centuries. Probably the most recognisable part of the college is the Mathematical Bridge designed by William Etheridge in 1748. Myths have grown up about the bridge having no bolts and held up by clever angles and gravity. The punt guides may tell you how students disassembled the bridge one night and then couldn't put it back together.
Originally Presidents of Queen's were not allowed to marry but this changed in 1597 when the Presidents' Lodge was built above the main cloisters to provide married accommodation.
The sundial dates from 1642 and the latest addition, Cripps Court, was built between 1974 and 1980. The Mulberry Tree is in the centre of Cripps Court. All these buildings and others are in the painting.