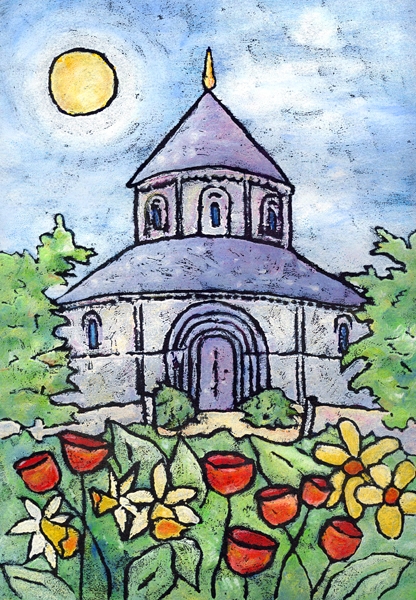 Round Church
Monoprints Gallery
Ref: 504
Monoprint
11.75 x 8.25 inches / 29.5 x 21 cm
Original for sale £55 (GBP)
The Church of the Holy Sepulchre, known as The Round Church, is an Anglican church in the centre of Cambridge. It is on the corner of Round Church Street and Bridge Street and has been designated a Grade I listed building, It is currently managed by Christian Heritage and is one of the four medieval round churches still in use in England.
Unfortunately the Round Church is surrounded by other buildings but it does have some greenery within it's walls - nothing wrong with artistic licence!
The monoprints are hand painted on a marked block and printed onto a beautiful black mould made paper especially for professional printers. Each one is slightly different but the photo gives a guide to the quality and textures of the print.