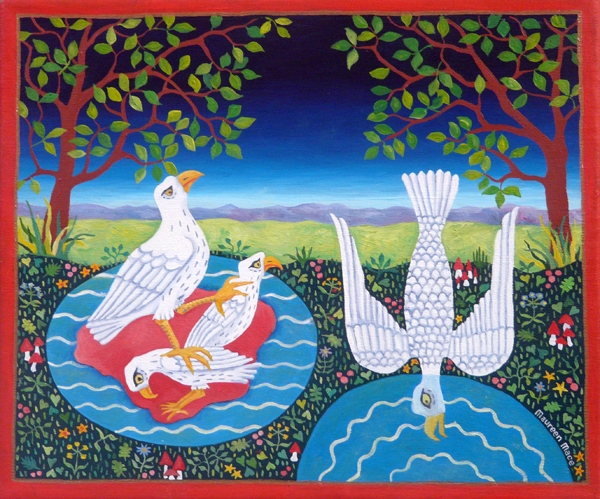 Bird Bath
Other Paintings Gallery
Oil on linen canvas
11.5 x 13.5 inches / 29 x 34 cm
Original for sale £345 (GBP)
Recently I have become a reader at the Parker Library, Corpus Christi in Cambridge. Needless to say I am very proud of this and love to see all the wonderful Medieval manuscripts there and to draw from some of the images made over 700 years ago.
One of my favourite books is the Peterborough Bestiary and this is my contemporary version of one of its beautifully gilded illustrations. Bestiaries have been described as 'A Moralized Natural History Illustrated with Curious Pictures'.
The birds in the painting are Eagles. They are sharp sighted and can see tiny fish from afar descending like a catapalt to catch them. When an eagle grows old its wings become heavy and its eyes misty. The bird flies up to the heavens where the sun singes its wings and clears its eyes before the bird hurtles down into water when it it restored to strength and clarity of sight.